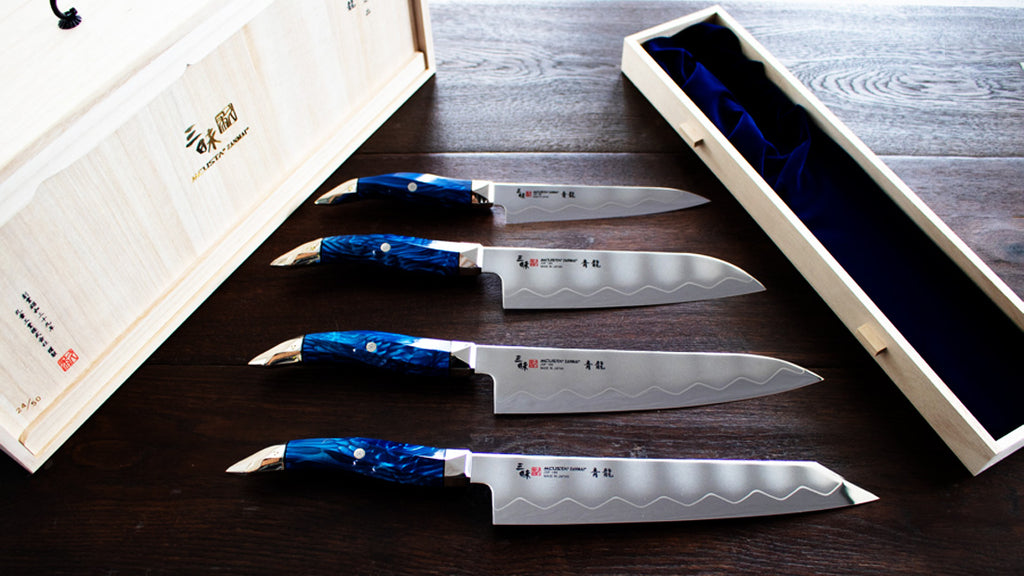 Designer 4 piece knife set by Mcusta Zanmai
Mcusta Zanmai Limited Edition - Blue Dragon 4pc Set
Share this product
In stock
Shipping & Delivery Time (
>>
)
Code: MCDRSET
Blue Dragon "Seiryu" Limited Edition
Only 50 of these luxurious box sets have been produced by Mcusta Zanmai.
"Seiryu" the Blue Dragon, is the guardian of the East (compass direction) - one of the Shijin - the four mythological creatures of Taoism and represents the element of Wood and the season of Spring. The Blue Dragon also has strong links to Feng Shui and astrology.
The previous 2 sets Suzaku (Red Phoenix) and Byakko (White Tiger) are sold out globally, but this 2022 limited edition is undoubtedly the best one yet. 
Limited Edition Knife Set
Meticulously produced, this is the third limited edition series by Mcusta Zanmai.
"Blue Scale" handles are carefully crafted from hardwearing resin
"Dragon Scale" stainless steel sanmai construction
Mosaic pins, metal bolster and end cap add to the luxurious feel
ZDP-189 steel core with advanced edge retention
The blades are thin behind the edge with a superior cutting experience
Unique storage case representing an ancient Japanese paulownia chest.
Each set is stamped with a number / 50. 
Available for viewing and purchase in both Sydney and Melbourne stores.
About Mcusta Zanmai
The company value for MCUSTA Zanmai is 'Always Innovate' and under the third generation President Tomo Hasegawa the innovation continues.
Mcusta Zanmai are known as one of the most advanced knife workshops in Japan today. Their knives are laser cut, CNC milled to perfection and then assembled and sharpened to an enviable edge. 
Tomo Hasegawa tells us the Blue Dragon Limited Edition is the pinnacle of their knife making capability and the very best knives to ever leave the MCUSTA workshop.
Please note:
Resin handles are not perfectly heat resistant, so keep away from a hot stove.
| | | | |
| --- | --- | --- | --- |
| Gyuto | 210mm blade length | Edge | 50:50 V bevel |
| Petty | 150mm blade length | HRC | 65 |
| Santoku | 180mm blade length | Tang | Full pin tang |
| Kiritsuke | 230mm blade length | Composition | ZDP-189 |
| | | Saya | Not included |
Not just a statement piece, these are high performance knives to be enjoyed in your kitchen.