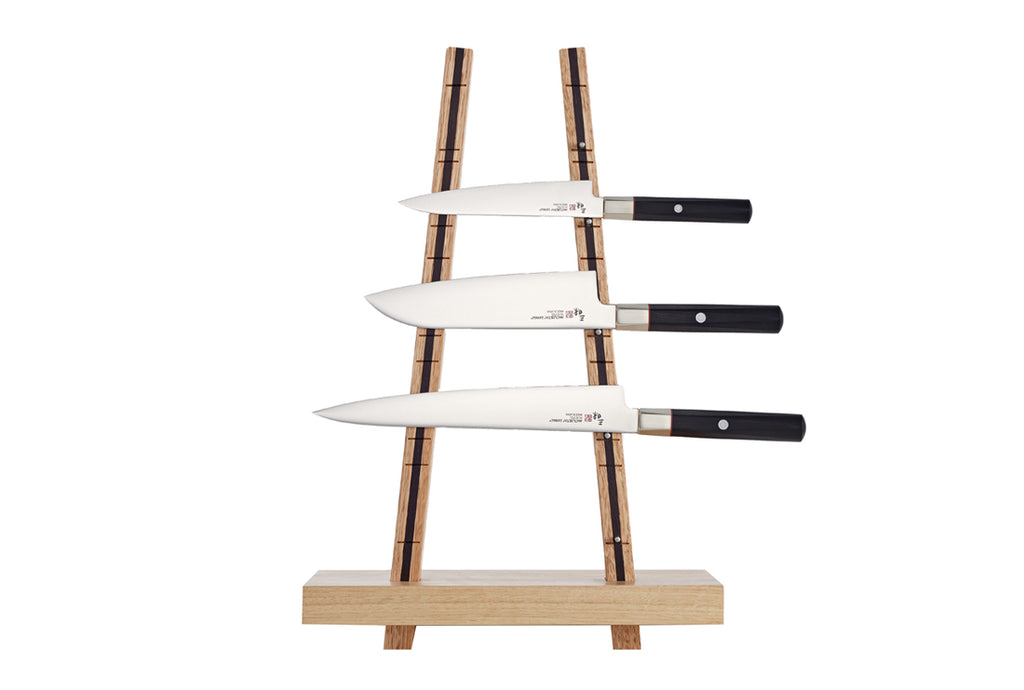 Mcusta 3pc Knife Set with Chestnut Stand
Share this product
Out of stock
Shipping & Delivery Time (
>>
)
Code: CAMCSET3CH
Mcusta 3 Piece Knife Set

The Mcusta Japanese knife set includes
150mm petty knife
180mm santoku knife
240mm sujihiki
Chestnut wood magnetic knife stand
Zanmai Hexagon VG10 Series
MCUSTA excel in producing knives from VG10 steel. Unclad VG10 steel is very difficult to handle but the MCUSTA Hexagon laser cut VG10 blades are exceptionally strong. These knives are all about the details:
A single piece of hardened VG10 steel is attached to a hexagonal handle that gently transforms into a rounded hilt.
The legendary MCUSTA hamaguri edge grind for superior sharpness.
The nickel silver bolster is softened with rounded edges and attaches seamlessly to the handle with a decorative red spacer.
A stainless steel pin secures the handle to the blade encircled by radiant luminescence.
Handles are lightly textured for good grip.
MCUSTA Zanmai Knives
The MCUSTA company motto is "Always Pioneers". Unlike other knife manufacturers in Japan MCUSTA employ methods such as laser cutting and CNC milling to create knives that are consistently superior. MCUSTA use a combination of traditional craftsmanship and modern day technology to create blades that are both beautiful in use and aesthetic.