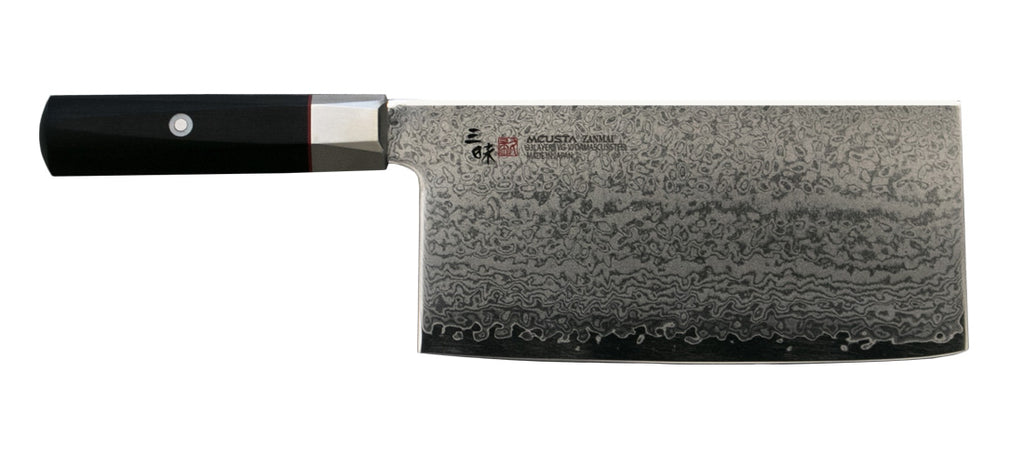 Versatile chinese style chopper by Mcusta Zanmai.
MCUSTA Zanmai Damascus Chopper 180mm
Share this product
In stock
Shipping & Delivery Time (
>>
)
Code: MCZCB-2001D
180mm Chopper
Combining the comfort of the Mcusta Hexagon series handle with the beauty of a damascus stainless steel blade, Mcusta have created their very first Chuka Bocho.
Many Asian chefs (and a few western chefs in the know) use this style of chopper as a multipurpose knife, instead of a gyuto. A thin, sharp blade and additional weight slices and dices with minimal effort. Extra height gives acres of knuckle clearance and allows ease of cutting taller foods. And there is slight curve in the blade that allows for a small rocking motion when called for.
This is a thin style of chopper suitable for fine slicing as well as all the dicing and mincing your heart desires.
Note: this chopper is not designed to cut through bones. If this is what you are after, look at the HK chopper.
Mcusta Zanmai Damascus Chopper
Hardened VG10 / damascus steel is attached to a rounded hexagonal handle.
Textured handle - if you're hands are wet it's still a good grip.
The cutting performance is smooth and accurate with a double hamaguri edge grind for superior sharpness.
The nickel silver is softened with rounded edges for comfort.
Made with the same attention to detail as all MCUSTA Zanmai knives.
This "Chuka Bocho" style knife will become a firm favourite in your collection.
MCUSTA Zanmai Knives
The MCUSTA company motto is "Always Pioneers". Unlike other knife manufacturers in Japan MCUSTA employ methods such as laser cutting and CNC milling to create knives that are consistently superior. MCUSTA use a combination of traditional craftsmanship and modern day technology to create blades that are both beautiful in use and aesthetic.
| | | | |
| --- | --- | --- | --- |
| Style | Chopper | Blade Length | 180mm |
| Overall Length | 305mm | Weight | 320g |
| Blade Thickness | 2.5mm | Tang | Long pin tang |
| HRC (hardness) | 60 | Composition | VG10 stainless steel |
| Edge | 50:50 double hamaguri | Saya | Not included |