About Us
Est. 2007, Chef's Armoury is just that – the place chefs come to arm themselves with the very best kitchen ordinance.
At the turn of the century Australian chefs had very little choice of knives. European blades were de rigueur and the only Japanese blades available were commercial brands. Hand forged knives were non-existent and words like Gyuto, Deba and Yanagiba could have been moons of Saturn.
Very few had heard of a Konro barbeque - Hibachi, had ever grilled on binchotan charcoal, sharpened their own knives on Japanese waterstones, made their own dashi from kombu, tried yuzu juice or namazake, used premium shoyu or knew the difference between properly brewed and synthetic mirin.
In 2007 and in the following years Chef's Armoury introduced all of these things and more to chefs and enthusiastic home cooks in Australia. And we are still innovating and introducing more and more desirables each and every year.
What we offer:
The most desirable Japanese knives
Reliable Japanese sharpening stones
Professional knife sharpening services for Japanese knives
Classes: Knife sharpening, Japanese Sake 
Japanese Cookware
Japanese Konro Barbeques & Binchotan (White charcoal)
Boutique Japanese Ingredients
Japanese Sake, Shochu, Umeshu
Sake training and events
Chef's Armoury ships worldwide to selected countries. Read International Orders.
Our customers
Our customers are a mix of public and trade, from enthusiastic home cooks through to Chefs, Restaurateurs, Cafes and Hospitality suppliers.
Our Focus
CURATED LIST OF JAPANESE BLADES
Our selection of Japanese blades is carefully curated to bring you the best in class. Any blade in our store is an endorsement, not just for the maker but for the range they have produced. We don't stock every Japanese brand, or every range from the makers we stock, and for very good reason. We cherry pick the best from the best so you don't have to worry about making a bad decision.
EDUCATION
Different knives suit different people. Our staff are skilled at giving the right advice to help you choose what's right for you. We offer classes on knife sharpening and general advice on knife care and maintenance. If you see an ingredient or piece of cookware in store and need inspiration on how to use it just ask and we are more than happy to help.
JAPANESE KNIFE SHARPENING SERVICE
Japanese knives need specialised sharpening. We highly encourage folks to learn about sharpening themselves with our sharpening classes. We also offer a professional Japanese knife sharpening service for the knives we sell in our Stanmore NSW and Richmond VIC locations.
JAPANESE COOKWARE & JAPANESE FOOD
Our philosophy for cookware follows on from our selection of knives – only have the best in class. Cast iron designed to last 100 years, Konro barbeques commercially used by chefs, handmade tools rarely found outside of Japan and a rare selection of boutique Japanese ingredients.
JAPANESE BOOZE
We love sake. Because we buy direct from the brewer and handle our own imports we're able to offer high quality, fresh artisanal sake at affordable prices.
If you are interested in buying Japanese sake, beer, shochu or umeshu, we have a dedicated sake website you can buy sake online - shipping Australia wide. Or visit our Sydney or Melbourne stores.
Browse Collections
"Nihon No Takumi" translates as Japanese craftsmanship and since 2007 we have been supporting Japanese craftsmen to bring their products to the Australian market.
Long before the current trend of Japanese food and in a time when most local chefs preferred German knives over Japanese we began spruiking the benefits of thinner, sharper, harder Japanese blades.
In recent times our dedication to supporting Japanese craftsmanship has extended to artisanal producers of Japanese Sake. To this end we launched Sakeshop in 2013 so Australians can enjoy artisanal sake in the same way as local people in the neighbourhood of our breweries. All of our sake is imported in refrigerated containers to maintain the quality and fresh characteristics of sake just as the brewer intended.
To find out more about Japanese knives click on the button below.
Learn More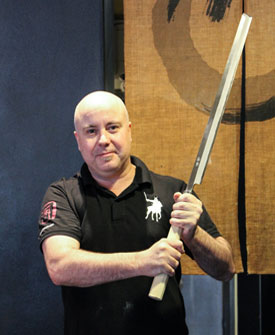 Leigh Hudson, Founder and MD
"Chef's Armoury fulfils all of my interests: Japanese food, booze, Japanese culture and the coolest knives in the world. "
As a teenager Hudson was conscripted to the commercial kitchen and after serving his time as chef he migrated FOH to terrorise wallets in the role of Sommelier. After a brief pit-stop in the wine trade, Hudson started training in the art of Japanese knifemaking and in particular sharpening.
Hudson is also recognised as International Kikisakeshi and Advanced Sake Professional (SEC Tokyo) and WSET Sake educator. Being a certified Sake Sommelier he is committed to bringing sake education and sake drinking to the mainstream of Australian drinking culture.
As a frequent traveller to Japan, Hudson is the go-to guy for chefs, journalists and avid foodies for hot tips on where to eat, drink and shop in the land of the Rising Sun.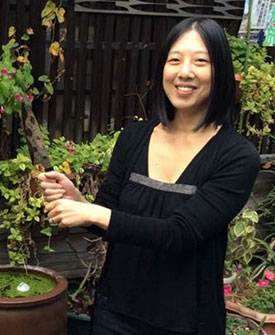 Stephanie Hudson, Founder
It's the little things about Japanese culture that can only be learned through living it, and Stephanie is definitely a shoes-off-in-the-house kinda girl. The same can be said for her aesthetic especially when it comes to knives.
After years as a corporate warrior at the big end of town, Steph is quite at home amongst the calm influences of razor sharp blades and begging bottles of Japanese sake. With a background in Digital and Direct she keeps the Chef's Armoury ship afloat and can sometimes be seen in one of our stores.
Sake fanatic, and certified Kikisakeshi or sake sommelier, she was the driving force behind Sakeshop in 2013 in order to introduce boutique sake from local Japanese kura to the Australian public at affordable prices.