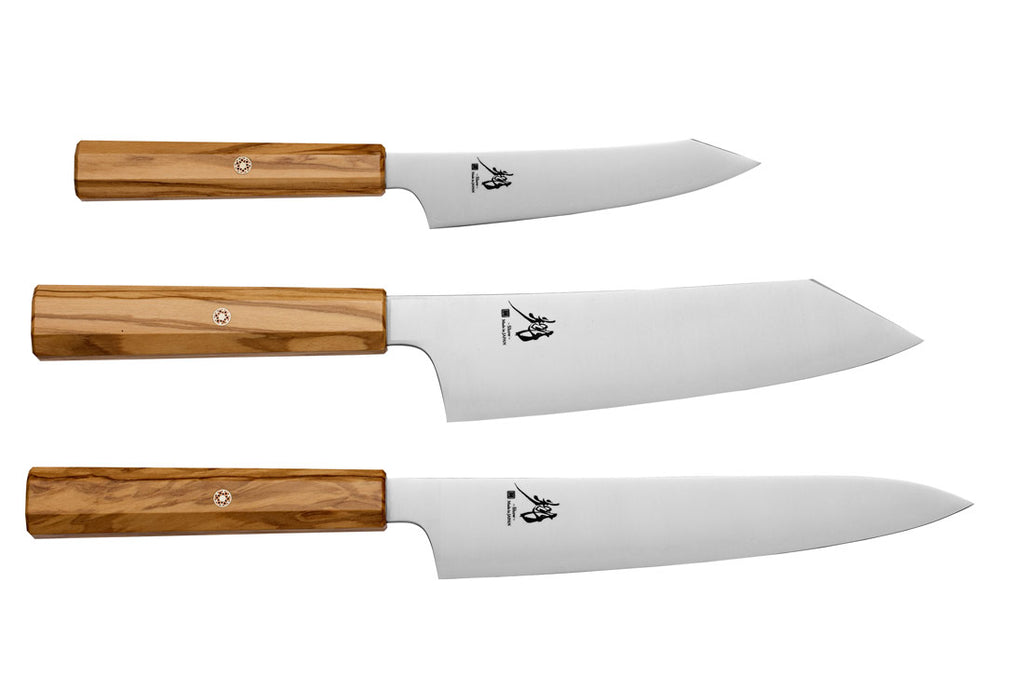 Nenohi 3pc Knife Set - Olivewood
Share this product
In stock
Shipping & Delivery Time (
>>
)
Code: CANEOLSET
Nenohi 3 Piece Knife Set

The Nenohi Japanese knife set includes
120mm kobunka - petty
175mm bunka - multipurpose
195mm sujihiki - slicer
Nenohi Olive Wood Set

Nenohi produce some the most enviable knives in Japan. It is a brand used consistently by top chefs in Tokyo and beyond. The downside however, Nenohi knives are among the most expensive with a single blade easily costing $1000+.
Considering the pedigree, the Olivewood set from Nenohi represents incredible value. 
Made from proprietary 3 layer Nenohi stainless steel (note - different steel to Nenohi Custom)
Thin edge grind for a confident cutting experience
Elegant handle made from ancient olive wood
Mosaic pin
Stylised upswept design
Nenohi and the pursuit of excellence
"Customers looking for genuinely good knives always come to us ... We usually do not take the cost into consideration when we develop a new product. When makers develop a new product, they usually set the price first, then, develop a knife meeting the set price. We do totally the opposite. We develop a knife first, the best knife we can create without thinking of the cost, then, set the price which meets the newly developed knife. That's why our knives are not cheap - the only downside of our knives." Yusuke Sawada president of Nenohi
......
| | | | |
| --- | --- | --- | --- |
| Style | Petty | Blade Length | 123mm |
| Overall Length | 252mm | Weight | 60gm |
| Blade Thickness | 1.6mm | Tang | Pin tang |
| HRC (hardness) | 60-61 | Composition | Nenox custom stainless |
| Edge | Hamaguri with microbevel | Saya | Not included |
| | | | |
| --- | --- | --- | --- |
| Style | Bunka | Blade Length | 175mm |
| Overall Length | 320mm | Weight | 133gm |
| Blade Thickness | 1.8mm | Tang | Pin tang |
| HRC (hardness) | 60-61 | Composition | Nenox custom stainless |
| Edge | Hamaguri with microbevel | Saya | Not included |
| | | | |
| --- | --- | --- | --- |
| Style | Sujihiki | Blade Length | 195mm |
| Overall Length | 341mm | Weight | 108gm |
| Blade Thickness | 1.8mm | Tang | Full tang |
| HRC (hardness) | 60-61 | Composition | Nenox custom stainless |
| Edge | Hamaguri with microbevel | Saya | Not included |